I set out last week to grow a mustache and raise $500 for men's health in the month of November this year, to honor my father's 2000 battle with prostate cancer. So far, my fundraising pace has exploded, and I am overwhelmed by the support I have received. In just five days, I have raised over $900, thanks to the generosity of family and friends, prompting me to raise my personal fundraising goal to $1,000. It looks like I may now have to raise it to $1,500! I'm currently leading the Nashville Predators' fundraising team, and have been responsible for over half of the money team has raised so far.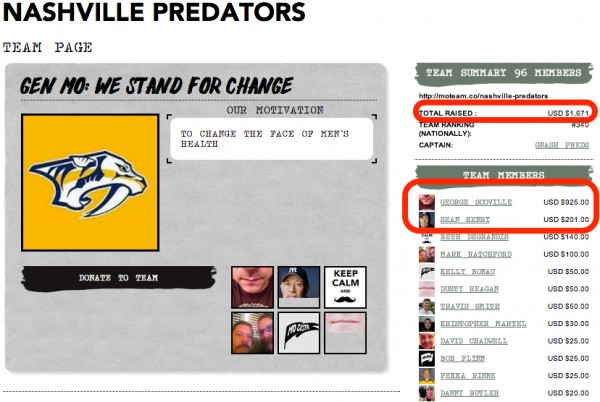 It's not likely that I'll keep that fundraising pace, so today I partnered with the Dollar Shave Club to raise even more money for this great charity!
When you sign up for Dollar Shave Club, enter the promotional code MOVEMBER062. For every person who signs up with the code, Dollar Shave Club will donate $10 at the end of the month toward my personal Movember fundraising goal!
You get razors delivered to your doorstep inexpensively, and we both get to fight cancer — it's a win-win! Ladies, keep this in mind as the holidays draw nearer: if your man needs to shave more ahead of cuddle time, razors are a great gift. (Trust me, some of us literally forget to shave sometimes.)
Be sure to check out the Dollar Shave Club Blog, too, which boasts manly and humorous items to rival the one and only Art of Manliness blog (who is also raising money for the Movember Foundation).
If you don't want to buy razors by mail, but want to help, you can still go directly to my personal Movember fundraising page and make a secure, 100% tax-deductible online contribution of your choosing to the Movember Foundation. I have been asking for $10 donations to force me to keep asking people for money, but you may give whatever you like. You'll be helping men like my dad live with and through — as opposed to die from — prostate and testicular cancer, as well as helping families like mine cope with our loved ones' cancer battles.