Today I provoked a hockey pundit on Twitter so badly, he lost it and started attacking me personally.
@stackiii Your spectacular delusions of what real journalists do are a sorry sight to behold. I don't do anything for clicks. Take care.

— Adam Proteau (@Proteautype) October 25, 2013
So how did this all get started? I'm glad you asked. Adam Proteau published an opinion column on The Hockey News's website today arguing that my beloved Nashville Predators, in light of losing star goaltender Pekka Rinne to a bacterial infection for a minimum of four weeks, should trade franchise defenseman and captain Shea Weber for a king's ransom, including help in goal to replace not the wayward Rinne, but his novice backup Carter Hutton. Read Proteau's piece and decide for yourself whether or not you think he's right. I disagreed with his analysis, and I called him out on Twitter after reading his piece:
If @Proteautype knew what he was talking about, he'd be a GM or AGM, and not in media. #Preds — George Scoville (@OTFGeorge) October 25, 2013

I meant it mostly a throwaway comment, a loose barb lobbed toward a mainstream journalist whom I didn't expect to read my little reply anyway — much less take it personally.
Longtime readers of my stuff know that, while I recognize the existence of market failures, I generally tend to think that uninhibited markets, through the price system, do a pretty good job of allocating resources efficiently, effectively, and equitably within a society. As such, if someone knew something that the general manager or an assistant general manager of an NHL franchise hadn't already considered (which is unlikely), they would either become the general manager or assistant general manager of that franchise themselves, because their knowledge services would be more valuable to ownership than the status quo — or they would at least be consulted by said front office managers. That's the type of phenomenon the (admittedly problematic) efficient-market hypothesis describes and predicts, roughly.
I also called Proteau "vain" in a later tweet, responding to his charge that I hadn't read his piece, and to make it really clear I was kidding when I deliberately used the word "vain," I put a smiley face in the tweet — to no effect, it turns out, because that tweet really pissed him off.
@Proteautype I read every THN trolling of the #Preds. But hey, I'm not so vain I can't take a Twitter barb :) @andrewhirsh

— George Scoville (@stackiii) October 25, 2013
He then used the expressions "disrespectful" (as if I owe him that out of hand; I don't even know the guy), "moronic," "idiotic," "awful," "comically selective," and, as you can see above, "spectacular delusions" in pretty rapid succession to describe me.
But I digress…
Personally, I think the substance of Proteau's column couldn't be more wrong, not least because of several NHL chattering class tropes at work in the piece:
His column only mentions Shea Weber, Pekka Rinne, and Seth "Great American Hero™" Jones. It's pretty common for hockey media to only talk about Rinne, Weber, and Jones because very few people in hockey media know there are, in fact, 20 other players on the roster in Nashville. I should know, I spend my precious little free time helping to cover a lot of them, and their liabilities/assets to their team. Rinne and Weber have been, are, and will be for years to come really important pieces of Nashville's playoff puzzle — but they're not the only pieces, none of them alone a sine non qua. Seth Jones, on the other hand, is really just icing on the cake — a player who, ten games into the season appears to have been able to step into a primetime role at 19 years of age. It's not like he was necessarily part of the forward-looking plan, or even part of the status quo; he's still largely unproven, no matter how nasty that game winner in Montreal looked.
His column assumes Nashville won't spend to the salary cap, especially in the years ahead when it begins to rise again as a function of the recently enacted collective bargaining agreement between the NHL and Players Association. This might have been a legitimate criticism during the Leipold era, but according to our friends at Cap Geek, since the current owners took the helm, the Predators' cap space as a percentage of the cap itself (since the hard cap figure varies year to year) has been trending all over the map in recent years: 22.2% in 2009-2010, 14.3% in 2010-2011, back up to 18.8% in 2011-2012, 23.5% in 2012-2013, and back down to 5.0% for the current season (Cap Geek did not provide sufficient data for 2008-2009 to make a calculation, though that was the first full season of the post-Leipold era). What does all that mean? It means you can't say anything conclusive about what Nashville's ownership will do going forward, and if you're claiming otherwise, you're just bloviating. I suspect that stories about the supposedly poor, pitiful, financially unstable Nashville Predators help sell a lot of magazines in Canada, and I don't begrudge Proteau or The Hockey News that fact: it's just a function of Writing 101-type stuff, "know your audience," etc. You have to deliver a product consumers want in order to make money. (Quasi-related: maybe someone should clue in the clown who tried to buy the Predators in 2007 and move them to Hamilton, Ontario that he's clearly in the wrong business.)
His column assumes Nashville won't spend to the salary cap, specifically because Nashville elected to match the 14-year, $110 million offer sheet the Philadelphia Flyers extended to him when he was a Restricted Free Agent in 2012. "[T]he clock began ticking" on Weber's time in Nashville the moment the franchise made that decision, proffers Proteau, because, if you begin from the false premise contained in the previous point — that Nashville can't or won't spend to the salary cap, or that they're a team in financial trouble — they won't possibly be able to sustain Weber's $7.8 million salary cap hit (the average of the total value of the deal divided by the term) for the coming years. But here's the thing about Weber's deal: it was front-loaded, a function of the previous CBA. Financially speaking, Nashville has a way to go in making good on what it agreed to keep the Sicamous, British Columbia native in a gold sweater for the remainder of his career… but the Predators simply aren't going to eat $27 million in sunk costs, and if you think they will or should, I'll have some of what you're smoking.
The broader reasons Proteau's thinking is flawed deal with the various incentives involved in his proposal.
You see, Shea Weber isn't just the sum of his beard, his #grit, and his booming slap shot. He's also a cornerstone of the Predators' marketing strategy:
In other words, Shea Weber is a big part of the reason Nashvillians head down to 501 Broadway 41 nights per year in the cold to lose their voices and overpay for cheap beer, S'mores waffles, bacon on a stick, and Poutine that isn't really Poutine. Those items are money makers for sure, but more importantly, Shea Weber is a big reason people buy individual licenses to consume entertainment, thereby allowing themselves and their captive eyeballs to be sold by the franchise to sponsors and advertisers. Shea Weber is synonymous with ticket sales! And ticket sales are what really matters to ownership over the long haul. That's the most simple indicator we have as to the health of a franchise, even if the Predators are goosing sell-out numbers by increasing paid comps. Maybe that's bad business, maybe it isn't. I'm willing to bet the sponsors and advertisers the Predators are courting don't care whether fans pay to get in the building; they just care how many are there at one time. The nightly and average gates are the most important indicators to ownership, because those are the metrics that justify sponsorship levels.
And that's a nice segue into what really struck me as odd about Proteau's defense of his trollish "real journalism," and his utterly ridiculous claim that he "[doesn't] do anything for clicks": the Internet's entire business model is based on website traffic.
The higher your website traffic, the higher you can charge companies who want to advertise on your site. The more advertising dollars you bring in, the more staff you can hire to write provocative content that, in turn, generates more traffic. Even if I grant Proteau the benefit of the doubt, and assume he wasn't just trolling on a slow hockey news day that has featured no big injuries, suspensions, or major franchise financial goings-on, his editors probably were trolling — if they assigned him the story in the first place.
I wonder, if Proteau is as innocent as he claims, how much editorial discretion he actually has to cover what he wants to cover, without someone assigning him topics, or otherwise holding his hand?
I've been a media strategist since I finished graduate school, and I don't need to be a "real journalist" to know that incentives matter in the sports reporting business, or to know how those incentives play on the types or numbers of stories journalists write, or that editors will publish. The Hockey News is one of the oldest publications in the business, which means they have a really good idea about how to drive traffic to their site and to sell print editions to mail subscribers. Hell, their 2 million-strong circulation number brag leads their Twitter bio.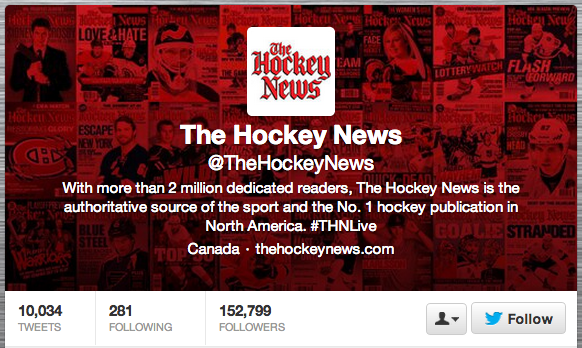 And all of that belies the other incentive-based problems that abound with Proteau's insane "trade Weber" proposal. Nashville Predators general manager David Poile bet the farm this past summer on a band of rag-tag grinders in hopes that head coach Barry Trotz could bring about a return to "Predators hockey," an amorphous concept that might play well on the radio and in marketing materials, but doesn't really mean much more than "defense wins championships," which is an insane way to look at the game. Fans now wonder why free agent acquisition Viktor Stalberg, signed in July to bolster the anemic Predators offense, has spent so much time in checking line roles, or has been a healthy scratch for division games. I begged and pleaded for them to use their remaining cap space this year to pick up a player who could help — including a goaltender, because Rinne's hip could flare up again, after all, and we might find ourselves in the situation in which we now find ourselves!
Do you really think David Poile would trade Shea Weber, the face of his franchise, and the only consistent on-ice contributor, to get some scoring help after betting the farm on the likes of Eric Nystrom and Matt Cullen? Or that he would trade for a goaltender when there's one sitting in Las Vegas waiting for someone to call, when he has some cap space to play with? All after letting Ryan Suter walk to Minnesota without getting anything in return? Are you on drugs? It would be tantamount to career suicide for David Poile. After bungling Scott Stevens in Washington, and Ryan Suter in Nashville, David Poile would never work again if he traded Shea Weber. Maybe he's ready for retirement, but I doubt he wants to go out like that.
Okay, okay, that last paragraph is why there's not a snowball's chance in Hell that Weber will get traded, as opposed to a rebuttal to the argument that he should be traded. I think I handled that argument already in the business case for keeping him. It's worth adding that not only would trading Weber be the end of the Poile era in Nashville, it would likely be the end of the Nashville Predators franchise, what with all the ways the people with the purse strings have blown it in recent years.
But the reason I'm writing these two thousand words this afternoon is to say, "Yes, Adam, you write specifically for clicks, in fact," or subscriptions, or whatever else The Hockey News sells people in exchange for revenues. Folks in online media simply don't earn a paycheck without traffic.
In any case, I never claimed to be a "real journalist," whatever that means. Proteau published an opinion piece today; I told a story with facts in it that nobody but my source and I had ever known before today. You can decide for yourself which is which.
But if I'm not a real journalist, Adam Proteau punched downward in a big way today, and made himself look incredibly petty, no matter how much he claims little ol' me and my calling him out on Twitter are "beneath [his] contempt."
Have a great weekend, America!